Lyric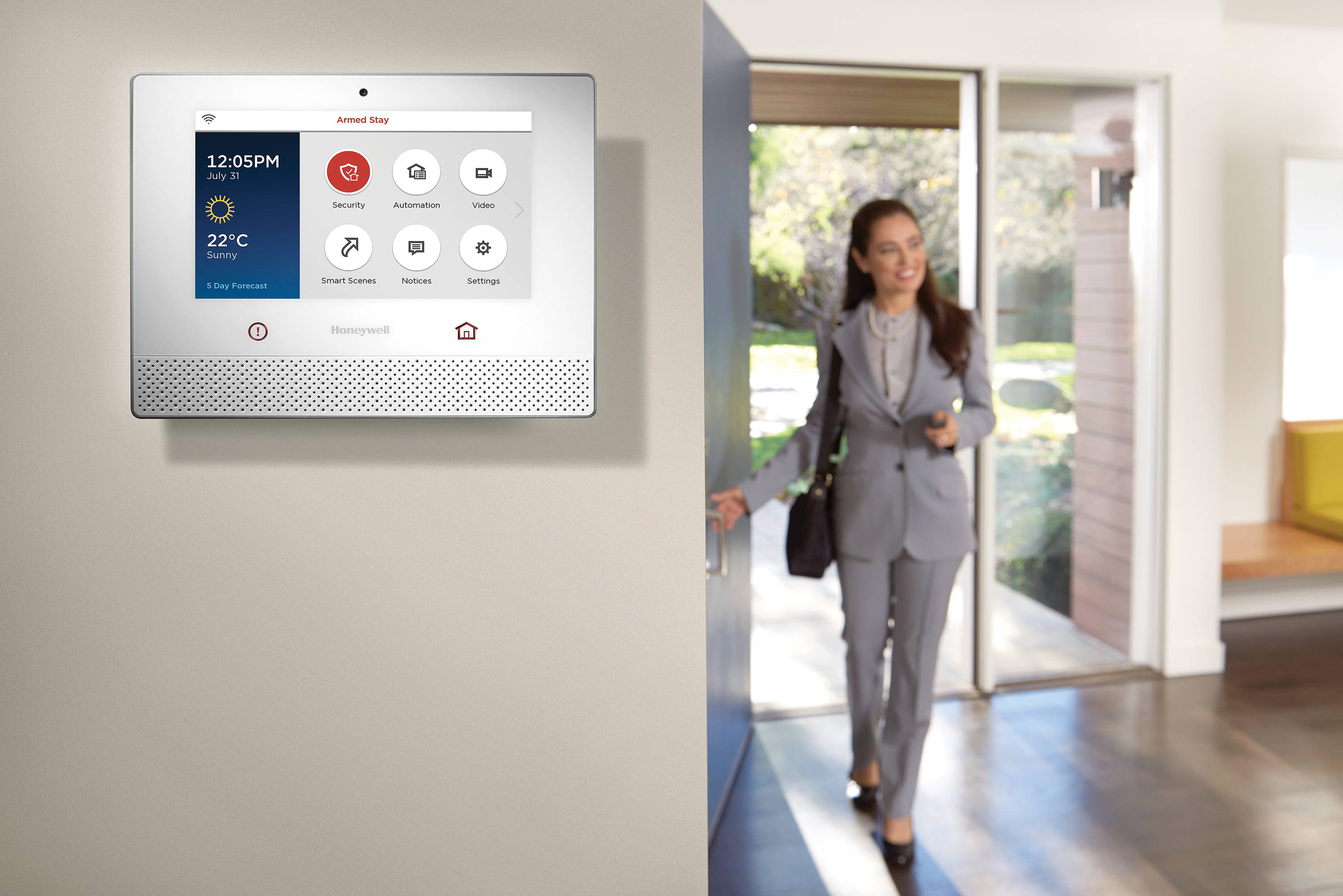 See what Lyric can do for you.

With your Lyric Honeywell security system, you have the power to transform your house into the most convenient, comfortable, and cost-efficient space you've ever lived in. You can monitor and manage your entire home, from your locks to your lights and more, with just a tap of an app. It's the simplest way to be in total control of what matters most - your home and everyone in it.
Lyric Controller
Smart, Sleek and Simple.
Honeywell's next-generation security and home controller puts your home at your findertips-- all from one vibrant 7" touchscreen. The Lyric Controller is intuitive, easy to learn and easy to use, whether you're controlling security, termostats, cameras, lights or locks with a tap on the touchscreen or the sound of your voice.
Featuring a sleek, low-profile design and stunning high-resolution graphics, it looks great on walls or tabletops.
Height- 6.65"
Width-8.50"
7-inch LED-backlit capacitive touch screen
Sounds- 10 chimes
Voice Announcemnt    Listen to system state, sensor state and more
Languages                           English, Spanish, Portuguese and French
Built-in Camera  Capture photo of who disarmed the system  
Resolution  640x480
Z-Wave- 7 2 devices
Thermostats            Supports an additional four Lyric Wi-Fi Thermostats
Sensors                             Supports 128 wireless sensors
Wireless Keypads           Supports 8 Keypads
Emergency Response      Dedicated emergency response button for users to request assitance from authorities. Fire, Police, Medical
110VAC main to 9VDC with 2.7A output
Backup Battery                    4-hour (1100mAh) or         24-hour (3700mAh)           Rechargeable NiMH cells rated at 7.2VDC        
Depth-1.3"
Weight-2.2 pounds
Resolution- 1024x600
Support for millions of colors
Voice-Assited Scenes                   Use your voice to run smart scenes, which are trigger commands to control multiple devices.
Available commands                  Wake up, Bedtime, Leaving the House, Returning Home, Evening, Cameras
Video Cameras                            Support for simultaneously viewing for honeywell Total Connect vieo cameras per screen.                Supports eight IP cameras.
Common Solutions   
Support for six Z-Wave

Support for 6 Locks

60 light modules, light dimmers, appliance modudles, window shades or blinds, garage doors, water valves and sirens or strobes.
Keypad Operation                            Arm and Disarm                             Status of System                           Seek Emergency Response         Sounds and Voice                         Announcements            
Emergency Alerts                  A Loud Alarm for: Break-ins when armed, unsafe levels of smoke or carbon monoxide, Tornado, and more.
Operating Conditions
32F-122F (0C-50C)
See how Visions with Lyric is the all in one hero you're looking for
You Sleep. We Dont.
Visions has been monitoring alarm accounts since 1982. Your Lyric will be monitored by a central station 24/7. There are highly trained professionals always standing by, ready to send help to your home in the event of a burgaly, fire, carbon monoxide event or other emergency. So, get some sleep. We'll be up all night.
Start Building Your Custom Home System