Total Conect
Honeywell
Total Connect 2.0
Protect what matters no matter where you are
You have a Honeywell security system for a reason — to protect your family and home. But having a security system and managing it are two different things.
The Honeywell Total Connect 2.0 app puts the control and management of your security system and Z-Wave® enabled devices (e.g., lights, lock and thermostats) on your mobile device. Now when you get that frantic call from your teen daughter that she tripped the system, you can disarm it from where you are. Or, if your son locks himself out again, you can unlock the door remotely.
There's much more, of course, such as viewing live video from your security cameras and receiving alerts when events happen, such as extreme temperate changes, motion detection and movement of valuables.
It all gets started when you download the app and start protecting what matters most to you, wherever you are.
---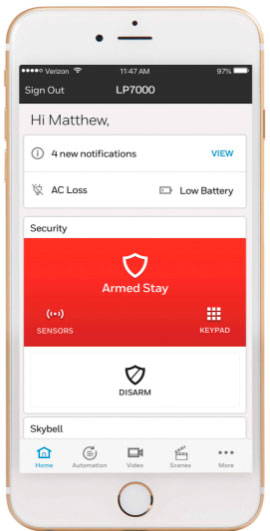 Security
• Easy, app-based security system control
• Works with Lyric, LYNX Touch and VISTA ™ platforms
• Common GUI across all platforms simplifies operation, reduces training and delivers a great user experience
• Provides true system status and real-time control
• Keypad, status and zones available at a glance
• Available in Latin American Spanish, French Canadian, Brazilian Portuguese and English
Test Drive the Demo
• Provides simulated "live" experience right on a your iPhone, iPad or Android smart device anytime, anywhere—without the need for Wi-Fi or cellular connectivity
• Contains Tool Tips—informative pop-ups that accompany and explain each and every feature
• Apps available in Apple App Store and Google Play Store
Smart Scenes
Smart Scene set-up with a wizard guides your customers through scene set-up for energy savings, ambience and convenience step-by-step—providing a great user experience and helping them make the most of their connected homes and businesses.
Video Solutions
• Keep yourself connected with event-driven video alerts, notifications and the ability to look in on your home, famly and business anytime, anywhere.
• Add up to six cameras per account, including iPCAM-WL low-light cameras for added security in dark indoor environments
• Provides secure communication, firewall-friendly video streaming and web-based camera configuration
• Attractive, easy-to-use interface with customizable images, sizing capability, streaming views and pan/tilt control
• Can be sold as a standalone offering or with security for a solution that is absolutely unmatched—all from one seamless, integrated platform
• Stores up to 500MB of video clips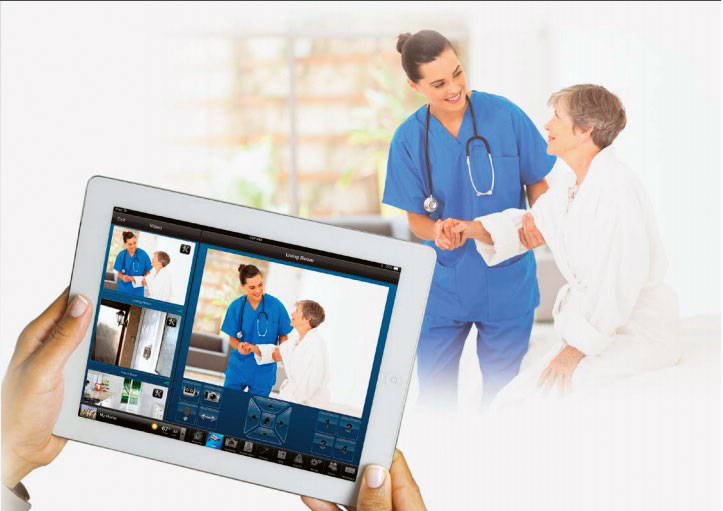 ---
Start Building Your All In One Home System